Any PAX event is like Disneyland for gamers. Giant booths blast music, lines for popular games seem to go on for miles, and your senses get slammed with more excitement than you can possibly process. Unfortunately, PAX South, the first of its kind, only lasts a mere 72 hours (from January 23rd to 25th)—and that's counting after the expo hall shuts down—so there's no possible way to experience everything. If you're a first-time PAX-goer, picking what's most important might seem like a daunting task. Our guide will help you take advantage of all the goodies this event offers.
Gear up to game on
Staying at a nearby hotel is super convenient, but not always an option, so good preparation is key. If you're heading out for a day at a gaming convention, assume you're going to be busy every minute of the day (it's not inaccurate) and won't have the opportunity to pop off and pick up whatever you may need. A water bottle and some snacks are crucial. Bottled water is notoriously overpriced, especially at conventions, and food is no different. While water fountains might be available, you risk dealing with long lines and germ-swapping.
If you're a handheld gamer, don't forget your 3DS or PS Vita. If you're a Nintendo StreetPass user, get ready for an influx of new puzzle pieces and be prepared to defeat the final boss in Find Mii several times over. With the Vita's Near app, you can find out what handheld games are most popular at the convention, and even play games with new people. There can be quite a bit of downtime when you're waiting in line or waiting for panels to start, so killing time with Super Smash Bros or Pokémon Alpha Sapphire is a good choice.
Planning ahead to play the best games
PAX is notorious for releasing information as close to the convention date as possible. Tickets go on sale out of the blue, and you never really know which developers will be at the convention until you get there. Your best bet is to check out your favorite developers' websites and Twitter accounts to see if they've mentioned whether they'll be at PAX South or not. Another good idea is checking PAX's panel schedule—it will help you to see what panels are happening when, so you can plan which ones you want to attend. The panel schedule will also reveal the lineup of panel hosts, many of whom are game developers you might want to see.
Once you're aware of the dates and schedule, it's time to prioritize. If only there were enough hours in the day to play every demo available—the expo hall is only open from 10am to 6 pm, so you're going to have to make some sacrifices. Pick a few games you absolutely have to play, like the newest sequel in your favorite series or the next game from your favorite developer. Then acknowledge that you're going to spend a good portion of the day waiting in line for each one—especially if it's a popular game (good thing you packed your 3DS, right?).
Plan to set aside one full day for major games, and devote the other two days to checking out panels, shopping, or playing indie games. Alternatively, you can pick a couple of games to wait for each day, then arrive early and get them out of the way so you can spend the rest of the day wandering. Even if you don't get to play a certain game, Pax South's incredible game lineup should guarantee a fun-filled weekend.
Tired of playing? Check out these other events
[caption id="" align="aligncenter" width="700"]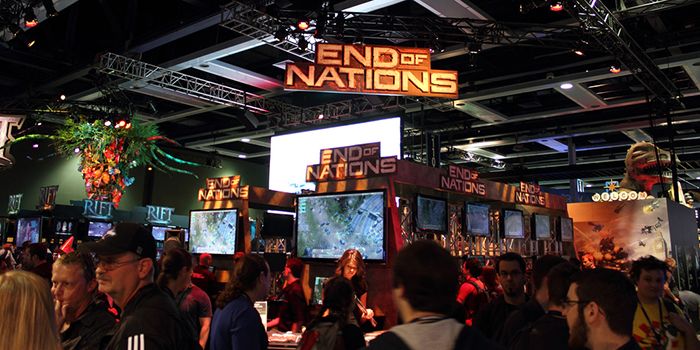 Thousands flock to yearly gaming conventions like PAX for incredible game demos, concerts, and gamer camaraderie. Image credit: Flickr CC user allaboutchase[/caption]
If you find yourself with a free hour or so, or the expo hall has shut down but you're still geared up, check out some of PAX's other offerings. There's usually a host of other happenings on the periphery of a gaming conventions, such as tabletop game sessions, tournaments, panels, and concerts.
PAX South is hosting six bands this year, including Freezepop, MC Frontalot, and Paul and Storm. The after hours shows will go from 8:30pm to 12:00am on Friday and Saturday, and they're sure to be a good time.
Challenge accepted
If playing tabletop games or dancing the night away doesn't challenge you enough, check out PAX's game tournaments. There are Smash Bros and N64 tournaments, as well as ongoing events in the BYOC (Bring Your Own Computer) areas. Or if you'd rather just watch, there's the Omegathon—a special tournament where randomly selected attendees compete to win a trip to Japan. The final round is always a surprise and can make for a fascinating competition; in 2010, the ultimate event was a giant claw machine.
Pax and play all day
There's so much to see and do at PAX South that it's almost essential to start planning before the convention starts. The crowds, noise, and plethora of simultaneous events can get overwhelming if you're new to big gaming conventions. But having a gameplan and trying the tips mentioned above should help you get the most enjoyment (and gameplay) out of a great 72 hours.
What are you most looking forward to at this year's PAX events? Any extra tips for mastering the convention?
The very first PAX South 2015 will be happening in San Antonio on January 23rd – 25th. For more, check out the official PAX South website.
Every Revealed Resident Evil 3 Remake Character Design Compared to the Original