Tuesday morning saw the release of patch notes for a forthcoming Fallout 76 update, one of the largest updates yet for the online multiplayer game. By releasing the patch notes early, Bethesda's able to show that this will not be a content-focused patch. Rather, the patch will make myriad small bug fixes, optimizations, and quality of life changes. Fallout 76's patch will go live today, December 11, on PC and will arrive on consoles starting December 13.
Bethesda provides a short list of highlights from today's patch notes that they want players to pay particular attention to. For instance, several changes have been made to the C.A.M.P. system that will positively affect most players' experience. Camps will now remove small objects when placing objects on top of them, players will receive notifications upon joining a world if their camp space is occupied, and will receive the chance to replace the camp for free if that's the case.
Several PC-specific changes are being added with this patch as well. Push-to-talk voice chat will now be available, while Depth of Field and Field of View sliders have also been added, enabling players to find a comfortable range for themselves. And also 21:9 resolutions will now be supported for those wide-angle monitors out there.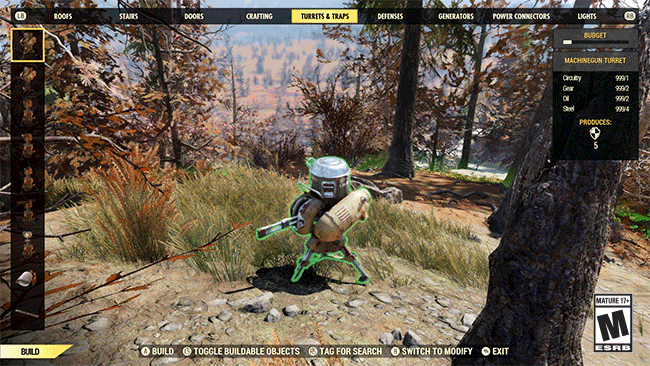 The final highlight will be very much appreciated by high-level players. After leveling to 50, all subsequent levels will offer an option of either unlocking a new Perk Card like normal or reallocate one SPECIAL point. Now players can optimize their builds as they like while continuing to play as normal, which ought to be a great middle ground response to a previously frustrating decision.
Beyond those highlights, there are still a ton more bug fixes and changes coming to Fallout 76 as part of today's patch. General performance and client stability changes are just the start of it. For example, .308 ammo will now drop much more rarely, lighting has been altered in certain overly dark exterior areas, and the AFK timer that kicks inactive players will now last for 30 minutes instead of 10. Plus, the Mirelurk Queen's acid attack now does much less damage, and she will stop flying more often. And there are many, many more changes beyond these that can be seen right here.
As far as post-launch patches go, today's update from Bethesda is a meaningful one. Fallout 76's controversies since launch are well known, but Bethesda can't go back in time and change history. It can, however, do everything it can to fix those issues post-launch and improve the experience for dedicatedplayers and potential newcomers. 2018 is the year that No Man's Sky proved a controversial release can overcome adversity through pure dedication to a project by a capable developer. Fallout 76 has every opportunity to improve in the coming months, and today's patch is clearly working towards that goal.
Fallout 76 is available now on PC, PS4, and Xbox One.
Source: Bethesda
Borderlands 3 Glitch Lets Players Freeze a Loot Tink for Infinite Legendaries